"Taming the Wild Muddy A History of Change on the Missouri River"
Published: May 8, 2013
Original Presentation- "Taming the Wild MuddyA History of Change on the Missouri River"
Presented by author and historian Jim Denny
Wednesday, May 8, 2013
As America explored, settled and learned to live with the Missouri River, it also forever changed the nature of this wild, western river. In one of the Big Muddy Speaker Series' most popular presentations, author Jim Denny uses historical journals of early river travellers, including Lewis and Clark, to conjure up the essence of the natural Missouri River.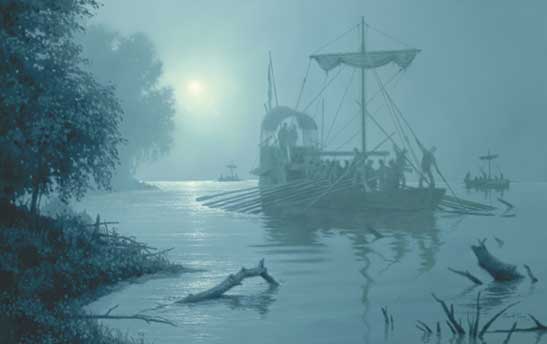 (painting by Gary Lucy of Washington, MO. Check out more of Gary's historical river art at his gallery website: www.garylucy.com)
The Missouri River as the first American explorers encountered it was a fickle, floody and dangerous place. Moving sandbars, collapsing banks and minefields of snags and debris made navigation on the river incredibly difficult. It was also a haven for wildlife, an everchanging creater and destroyer of a rich tapestry of habitat.
Looking at today's channelized river, it's tough to visualize the character of that wild river. Jim does a great job of digging into past accounts of the river, especially journals from the Lewis and Clark Expeditions, to describe both its untamed power and its sublime beauty and bounty. His descriptions of how the Army Corps of Engineers tamed the Big Muddy make it clear just what an amazing feat it was to control the Missouri River. (photo above: crews in 1929 stabilizing the banks with mats woven from willows. The willow mats would then get covered with rock laid by hand)
Jim Denny is a former historian for the Missouri Department of Natural Resources, and the author of several books and articles about Missouri River and Lewis and Clark history. He has given numerous presentations on Missouri's history, and has travelled the whole Lewis & Clark Trail in Missouri by boat and automobile. His premiere Missouri River accomplishment is the "Atlas of Lewis and Clark in Missouri", co-authored with MU geographer Jim Harlan. His latest publication is "The Civil War's First Blood: Missouri 1854 – 1861" published by Missouri Life. Jim, his wife Sue, his daughter Melanie and grandsons Alex and Ben currently live beside the Missouri River in Lupus, MO, waiting for their next chance to get on the river. 
Warning
: Use of undefined constant php - assumed 'php' (this will throw an Error in a future version of PHP) in
/home/customer/www/bigmuddyspeakers.org/public_html/wp-content/themes/big-muddy-speakers/content-single.php
on line
28
---